The Science-Based Guide to Effective Teamwork (Pt. 3): Determining Learning on an Individual and Team-Level Basis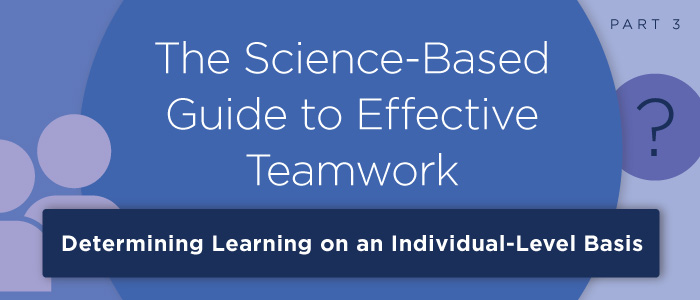 In the working world, jobs are increasingly becoming more collaborative and team-based. Nearly 100% of employees and executives surveyed believe a lack of alignment within a team directly impacts a task or project's outcome. If 97% of workers believe alignment is crucial, educators need to develop students for success in team contexts early on in the classroom.
So, you've managed to create group projects, and now group members are collaborating. But how do you ensure students are retaining information and learning effectively in a group format?
How do you know if students are learning?
Dr. Erich Dierdorff, an Organizational Psychologist, Professor of Management at DePaul University, and science of teams expert, elaborated on the science-based guide of team building. Today, we'll go over Dr. Dierdorff's advice on how to recognize individual and team-level learning.
Ensure Total Learning is Happening in the Context of Teams
Team success or failure isn't a direct reflection on individual learning. To understand the difference, it's important to use proper forms of evaluation. To identify learning on an individual and team-level basis, we're going to dive into how to ensure that real learning happens.
Don't just look at team-level success. Individual contributions matter, too.
Avoid ignoring the effects of teams on individual-level learning.
If the team is dysfunctional, the students will walk away with negative learning experiences and have failed to acquire the learning and knowledge you wanted them to collect in the first place.
Avoid assuming team success equates to individual success.
Just because a team worked well doesn't mean every individual was engaged or understood the entire process.
Avoid exclusively focusing on topic or subject-specific debriefs.
Instead, focus on debriefing the team project or subject matter and integrating team aspects.
Link success or failure to team dynamics.
Infuse the effects of teamwork and taskwork by conveying how team dynamics and collaboration shape the team's outcomes or deliverables. Require that project deliverables discuss taskwork and teamwork.
Require that project deliverables discuss taskwork and teamwork.
Infuse the effects of teamwork and taskwork in project deliverables.
Assess individual-level learning after the team project.
Many educators use Capstone, Foundation, or Comp-XM. These tools allow students to go through simulations as a team and then experience it as individuals and demonstrate learning independently.
Offer remedial training for those in problematic teams.
We know from research that if individuals are learning in poorly performing teams—especially those where cooperation and information sharing levels are low—students probably won't walk away with knowledge acquisition. Provide low-performing teams with additional learning modules to drive home the content you want to teach and ensure learning retention.
Probe for team decision-making pitfalls.
Next, Dr. D shared how teamwork matters in team deliverables. In classes, Dr. D. uses simulations to see how teams make key decisions and what teams may have chosen that contributed to poor outcomes. Things like:
How has your team just "stayed the course," instead of discussing how to adjust your tactics?
Has your team spent most of its time discussing what worked instead of both the team's successes and failures?
Were there times when you withheld your reservations about the team's decision, but you were correct? Why not speak up?
How accurate were your team's projections? Did your team create best-situation and worst-situation projections? Did your team rely more heavily on specific data at the expense of other data to make its decisions?
Did your team emphasize potential gains or potential losses when discussing what to do?
Asking teamwork-centered questions ensures students infuse learning into project deliverables.
Ask Teamwork-Related Questions
Asking teamwork-related questions in projects orients the project around collaborative aspects.
Teamwork relevance and working effectively with others extend far beyond the classroom. We know that most of our graduates will find themselves working in teams at some point in their careers.
Foster a perception of fairness in your evaluation method.
When evaluating performance and thinking about delivering grades, perceptions of fairness are critical. Fostering a perception of fairness is primarily driven by procedures of evaluating or procedural justice. Enhancing performance is specific. Let's start with what to avoid.
Avoid using the same evaluations for development and grading.
Separate aspects are used for evaluating learning, versus aspects used for development. We explained more about this in detail in our last post.
Avoid too little or too much weight for the team project in the overall course grade.
There isn't a magic number, but you should use your judgment. If a team project is worth over half of a course grade, or three-quarters of an entire grade, "that's probably pushing it," Dr. D. says. "Even medical schools don't practice those grading schemes." On the opposite end, if a team project is only worth about 5-10% of the entire course grade, students will likely put forth much less effort in doing well.
Avoid scoring only the outcome.
Include the process by which the team project was produced.
Include teamwork as part of the overall project score.
Use anonymous peer ratings to capture how each individual contributed to team success (or team failure).
Have "due process" for challenges about grading.
Specify a due process in your syllabus. Dr. D. shares a transparent process in his class. If students disagree with their grades, they have the opportunity to build a case on why they feel a score is incorrect. He then reviews the evidence and adjudicates a final decision.
The Formula to Team Success: Teamwork + Taskwork = Project Score
Be clear and concise in communicating the formula in your class. Examples can be something like:
Peer evaluation + presentation + paper = final grade
Make sure to have "enough" teamwork points at play. Peer evaluation can make up 15 points; a debrief is worth 20, and a simulation is worth 65, totaling 100 total points—enough points at play for students to care.
Peer evaluations are crucial. Here are a few tips to make them successful.
Tips for using peer ratings for grading
Here are a few tips to keep in mind when using peer ratings for grading (which you should.)
Remind students (often) that peer evaluation is part of the project grade.
Anonymity helps ensure honesty.
Practice transparency as an instructor—communicate that slackers will be recognized for their lack of effort.
Require justification for any considerably low or high ratings.
Keep the peer evaluation relevant and straightforward to the teamwork process.
We hope you've retained your sanity throughout the pandemic.
Visit Capsim's Webinar Archive to check out other helpful thought leadership and tools available for you.
Capsim's TeamMATE: Evidence-Based Approach To Developing Team Competencies, Free Until June 2021
Team-based assignments, team activities, and team presentations are integral to most business school programs for one reason: business requires graduates to be more than individual contributors; it requires graduates with management competencies such as team skills.
"In today's organizations, groups or teams make virtually all of the important strategic business decisions," according to Associate Professor of Management at DePaul University in Chicago, Dr. Erich Dierdorff, a consultant on teamwork to both corporate and government clients.
"Teamwork is critical in business but it is labeled a 'soft skill', mainly because it is difficult to measure," he said. "A candidate's technical ability can be tested, their communication skills noted in an interview, but team skills generally have to be observed."
Capsim's TeamMATE provides a clear measurement of team effectiveness during the business simulation experience. It further provides specific data on an individual student's teamwork skills in a realistic business environment.
And the best news? TeamMATE is free until June 2021. Learn more about it here.