Capstone Simulation Prepares a DePaul University Honors Accountancy Student for Success after Graduation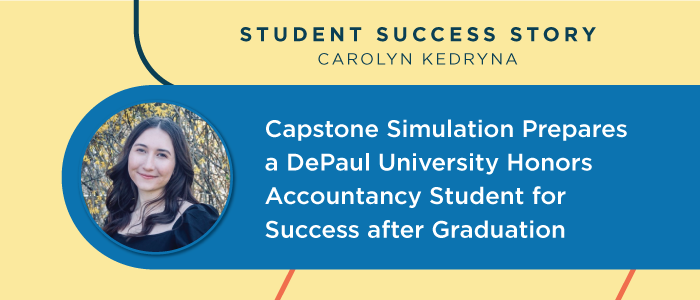 For a while, all was well. Team Andrews spent hours together on Zoom bonding, sweating, and stressing over Professor LiVigni's strategic management course. What the team failed to prepare for, however, was the dreaded emergency loan.
Capstone 2.0 is an advanced strategic management simulation geared toward Capstone, Strategic Management, and MBA courses. The tool challenges participants to apply the knowledge they've learned across all business disciplines–Research & Development, Marketing, Production, and Finance–to develop a corporate strategy.
Going along with a siloed approach can work until you get slapped in the face–paralleling what students can expect to face in the real world. Teams may think their strategy is sound, but they're forced to pivot once they fail.
Fortunately for Carolyn and her team, they were able to turn things around.
Immersive learning experiences prepare students for the real world.
After an emergency loan in round two, the team reassessed what went wrong. Focusing on a new and improved strategy was vital.
What changed? Initially, Team Andrews delegated roles to team members.
"But everything flows together and affects each other–indirectly or directly," Carolyn said. "The simulation highlighted the complexity of the business world and how the decisions affect not only your departments but others as well."
Her previous internship with Grant Thornton reflected that as well. Although she was in the tax department, her work often involved collaborating across other departments. Capstone reminded Carolyn business isn't so much about one person making a decision–it's about the group consensus and how it will impact all other functions with "a ripple effect."
Team collaboration in the classroom translates to the corporate world.
"The intermingling of small pieces creates the bigger picture," Carolyn said. "By working together, we experienced the stress and impact of our decisions."
Capstone challenges students to think and adjust in preparation for future success with communication and collaboration. These skills translate directly to the challenges students face beyond the classroom. Capstone's power and flexibility engage students in business strategy, enabling educators to help prepare and mold students for success–and brace them for failure–after graduation.
The strategic management course integrates theory and application into an overall framework for managing an organization in a competitive business environment.
Carolyn's winter break course paralleled many aspects from her previous internship at Grant Thornton, an accounting and advisory firm. Just as in the workplace, group members from Professor Livigni's course make real-time decisions with real-world consequences.
"Once you're in the simulation, it's like the real world," Carolyn said. "You're up against competitors, and your decisions determine your performance in comparison to others in the market."
Strategic Management and Capstone transcend traditional learning courses.
Unlike other classes, Capstone challenges students outside of a safety bubble.
"In other courses, you're given perfect numbers and scenarios that are easy to navigate," she continued. Scenarios are very much black and white.
But when it came to Capstone, it reflected something other courses did not: uncertainty.
"You have no idea what your competitors are doing," Carolyn said with a nervous laugh. "You're trying to figure out what their strategy is, and with every round, you think you know their strategy. But then you don't."
While other classes provide assignments on a due-date basis, Professor LiVigni's course has quicker turnarounds: one day. Sometimes, just a few hours.
Students make sink-or-swim decisions, and consequences emerge instantaneously upon submitting responses.
From an Emergency Loan to a Silver Medal: Delegating, Collaborating and Adapting in Capstone 2.0
Delegating individual tasks didn't make sense for Team Andrews. After a while of dividing and conquering, Carolyn's team realized that their success stemmed from increased collaboration throughout the process.
While each team member had a focus area, everyone came together collectively to uproot the simulation's decisions.
"We miraculously moved up to second place!" Carolyn said with a smile. "The key takeaway was focusing on strategy."
But Carolyn noted the importance of teamwork as well.
"Before every class, we met to discuss our decisions before submitting them for the next round," Carolyn said. Team Andrews spent hours pouring over details on Zoom.
"It was a great team effort," she finished.
Juggling teamwork and group projects with work, life, and school balance.
Carolyn took advantage of DePaul University's six-week winter break by continuing coursework. She spent the first two weeks of the winter intersession on Zoom Monday through Friday, 6-7:30 PM. Aside from majoring in the Strobel Honors Accounting program, Carolyn also tacked on a minor in management. In less than six months, she'll be graduating.
One of the most significant challenges on the road to success was timing. Many of Carolyn's group members had internships during the winter intersession. This past year, Carolyn has juggled leading DePaul Polish Student Alliance as the (virtual) president for the 2020-2021 school year.
In years past, one of the primary responsibilities of DPSA President was to rally the board to organize Bal Studencki. Hundreds of students from neighboring Polish Clubs at UIC, Dominican University, and other Chicagoland colleges would clamor into a ballroom, dancing the night away to Polish pop music.
A portion of the ticket portions would go toward a nonprofit organization. This year, the disco party looks a bit different. Carolyn's been leveraging teamwork to promote donations on Instagram to Dar Serca, Gift from the Heart Foundation, committed to helping medical care for children with special needs. In just a day, DPSA managed to raise $230.
When she wasn't fundraising, she helped her younger brothers with remote learning, baking holiday cookies, and setting up Christmas decorations.
During regular "work" hours, you could find Carolyn and her team making time for each other, in-between donating to save lives.
In the two weeks of the course, Carolyn recalled logging in about 60 times.
"I was in the simulation constantly," she said with a laugh. "One of the successes of the course was building great relationships with team members. We were all uplifting each other and acknowledging our successes and the team effort that went along with it."
Are you ready to challenge your students to take over a multi-million dollar company?
Click here to discover how to integrate Capstone 2.0 and other business simulations into your classroom.