How One Professor Elevated Student Engagement by Building an Inbox Simulation on Business Information Systems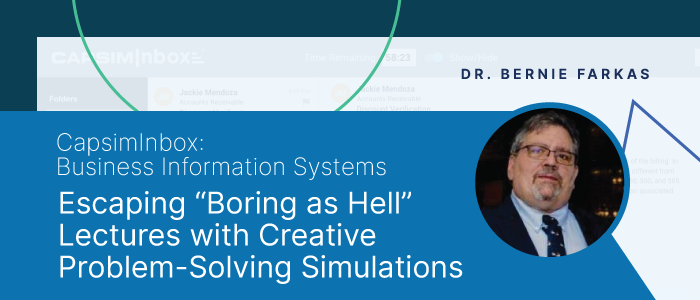 "I learned as a teacher pretty quickly that the classic 'professor in front of the room talking at students for two hours' was draining on me and boring as hell to them," said Dr. Bernie Farkas, Ph.D., Assistant Professor of Information and Technology Management at the University of Tampa.
"Giving students more hands-on experience is way better than reading a textbook, a case study, or even listening to my war stories," he said.
That's significant coming from someone with over 40 years of professional experience. Dr. Farkas typically has 30 students in his classroom with only a couple typically being Information Technology majors. The remaining 28 pairs of eyes who look at him "don't want to be there, which makes teaching fun," Dr. Farkas said with a chuckle. He only keeps students' gazes because they sit in on a required course.
The challenge? Creating an engaging and meaningful learning experience for a diverse group of students coming from a wide range of majors. With over 90% of his students coming from non-Information Technology backgrounds, Dr. Farkas found himself pondering how to create learning experiences his students would care about.
His existing approach to teaching with traditional lectures and sharing experiences from decades in the field wasn't cutting it. Textbooks and cases were old vehicles that were sputtering out of gas.
"When it's just another guy in front of the classroom rambling on–who cares, right? Because it doesn't mean anything for students who can't relate," Dr. Farkas realized. "But when you challenge students to struggle through and figure out how to deal with a situation that's as close to the real world as you can make it–the learning experience becomes more understandable."
He set out on a mission to transform his classroom experience and get his students motivated and engaged. He wanted to do this by:
Focusing on soft skills that would benefit every student, regardless of their major

Bringing to life the critical situations learners will encounter long after his course
While Dr. Farkas had a vision of what he wanted, he needed to figure out how he was going to do it.
Searching for a Solution to Fix the Student Engagement Problem
Right out of the gate, Dr. Farkas looked to business simulations as the best possible solution. The benefits were clear to him. Simulations brought students more meaningful learning experiences by relating content to the real world and providing students a safe environment to apply what they were learning.
"Simulations in the business scenario help our future leaders understand what may or may not be possible," Dr. Farkas said.
Unfortunately, every business simulation Dr. Farkas came across fell short. They didn't relate to the topics of his course and they lacked the ability to address the soft skills he wanted to instill in his students.
So when the University of Tampa's Management department asked Dr. Farkas to join them in a conversation with Capsim to evaluate their simulations, he reluctantly agreed. And after reviewing a suite of business simulations from Capsim, Dr. Farkas realized that maybe simulations weren't going to be his golden ticket.
That was until Capsim introduced him to a new simulation technology they'd been working on: inbox simulations.
Enter: CapsimInbox
Dr. Farkas quickly learned how inbox simulations use the familiarity and flexibility of email to reinforce learning and objectively evaluate critical business skills in a real-world environment. Perfect, Dr. Farks thought.
CapsimInbox uses an email environment to immerse learners in authentic, day-on-the-job situations and assess critical business skills. When Dr. Farkas didn't see a ready-to-use version that directly fit his course, he found an alternative route.
The Capsim team shared with Dr. Farkas that he had the ability to create his own simulation based on his experiences with a new authoring tool.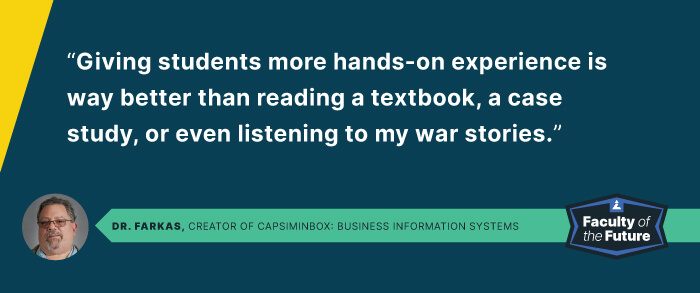 Dr. Farkas could envision his students struggling in a simulation to figure out how to navigate a challenging situation "as close to the real world as you can make it," he said. "Inbox simulations make it more real and more understandable. It's a space that needs to be addressed."
Dr. Farkas recognized a brimming opportunity to build his own solution by bringing his decades of experience to life for his students. Excited with the possibilities, he didn't waste time to start building his Business Information Technology inbox simulation.
Enter into a CapsimInbox: Business Information Systems Moment
This is a sample of a day-in-the-life of a Store Manager at a traditional community-based household goods retailer. What would you do? Interact with the CapsimInbox Moment below.
Decoding CapsimInbox: Business Information Systems
Dr. Farkas knew that while technology would be a focal point of the simulation, it wouldn't be about the technology itself.
"Building the simulation was more about, how do I work with the technology, rather than about technology. As a result, the skills assessed in the simulation became standard business skills: a combination of: How do I communicate? How do I get to a decision? How do I empathize?"
Participants in Dr. Farkas' simulation face questions like, should we put in a robot concierge that can guide customers through the store and help them find what they're looking for?
Surely they can. But participants have to weigh in other considerations, like the cost. And the fact that if they integrate an expensive solution, they likely won't be able to incorporate other necessary tools to improve the customer experience.
"There's no right answer in CapsimInbox. It's about the experience and how participants think their way through it," Dr. Farkas said.
Dr. Farkas also pitches innovative solutions like the adoption of smart labels and overarching privacy concerns. Because I know where you are in the store, could I recommend ads appear on your phone? Or can I recommend other nearby products you might be interested in?

As Dr. Farkas proves with the robot, targeted ads, and smart labels, technology constantly changes. But the undeniable need for critical thinking remains the same.
After a security breach crisis in the second half of the simulation, the participants face the fallout of the unintended consequences. Learners take responsibility for an appropriate business response. For example, should the store manager provide customers with a discount coupon or a credit for identity protection service? Is any amount of money a fair reparation for the damage done?
The Role
CapsimInbox: Business Information Systems immerses students in the role of a store manager at a traditional, community-based household goods retailer.
The Scenario
Participants must determine the best leading-edge technologies to elevate the Swares shopping experience while adhering to the company's traditions and Code of Ethics.
Skills Assessed
Dr. Farkas focuses on developing the ability to analyze, think critically, and make decisions to drive student engagement in his classroom.
Recognizing Issues

Identifying stakeholders

Discovering facts

Proposing solutions

Evaluating consequences
The Results? Inbox Simulations Engage Students in Different Ways and Withstand the Test of Time
"Simulations are a tool in that safety survival kit--to engage students in different ways," Dr. Farkas said.
And these authentic experiences withstand the test of time. "Many tools are obsolete by the time students graduate," Dr. Farkas began. "It's more about teaching students how to think. The tools themselves may change, but the ability to make decisions is key."
Dr. Farkas doesn't think tests are the most significant learning determinant. "They prove we can make students nervous," Dr. Farkas said. He has a different theory when it comes to instructing.
"It's not; write this paper, turn it in Thursday, and you'll get a grade next Thursday, and we move on to the next paper," he began. "It's; do your assignment, turn it in on Thursday, get a grade, redo the assignment, send it in, and get another grade."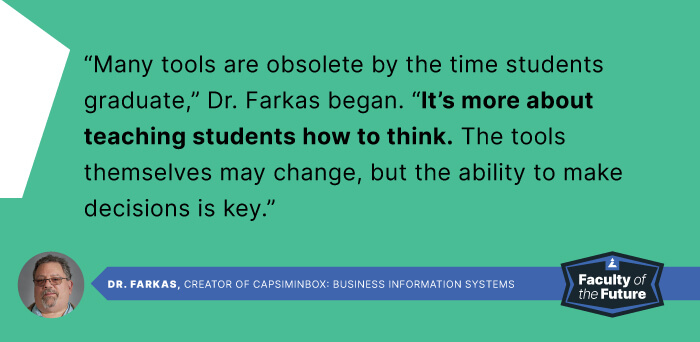 He prefers his students to continue working through a problem and gaining knowledge until they genuinely master it than to worry about the grade.
"The grade is the carrot to keep them going," he said. "Similar to merit badges in Boy Scouts of America."
High-Fidelity, Low-Risk Environments Foster Learning
Dr. Farkas' years as an Eagle Scout contribute to his instruction in the classroom. According to Farkas, a great scoutmaster allows his boys to make choices knowing they're going to fail and allowing them to do it.
"It's easy to make sure that they always make the right choice, and they always succeed," Dr. Farkas began. "It's harder to let them screw up because it's harder for you. You've got more things you have to prepare for as a Scoutmaster–and as an instructor. But that's the better path."
Inbox simulations allow students to make mistakes and provide opportunities for educators to bring theory to life and apply the knowledge they've gained across their course. When it comes to making decisions inside a virtual environment, the decision and consequences are real–without the risk.
Inbox simulations remove risks from situations entirely. Instead of forcing learners to acquire skills and knowledge through on-the-job training, participants can practice in the safety of a virtual environment with the flexibility for mistakes.
"Inbox simulations are the only way you can give students the experience to nurture skills necessary to travel the course safely," Dr. Farkas began. "Just like Captain Sully learned how to fly through a flock of geese and land safely in the middle of the Hudson River. If he had to do that for the first time, we wouldn't be celebrating the Captain's success. We'd be mourning the disaster. But because of simulations, he had enough real-life experience that he was capable of navigating through the real challenge when it came along. CapsimInbox is uniquely positioned to provide real-world training to prepare participants with the skills they need to overcome challenges."
Getting to Know CapsimInbox: Business Information Systems
In CapsimInbox: Business Information Systems, Dr. Farkas creates a simulated day in the life experience where participants assume the role of a Store Manager at a traditional, community-based household goods retailer.
This webinar explains the scenario in the simulation, the skills assessed, provides a walkthrough of the learner experience, and a behind-the-scenes look from the author himself.
Bring your Experiences to Life Today
Tired of vying for your student's attention in the classroom? So was Dr. Farkas until he realized the power of simulations. Start building in the code-free CapsimInbox Authoring Platform today to bring your expertise and passion to life for your students.