Ready for the Management Challenges of an Unpredictable World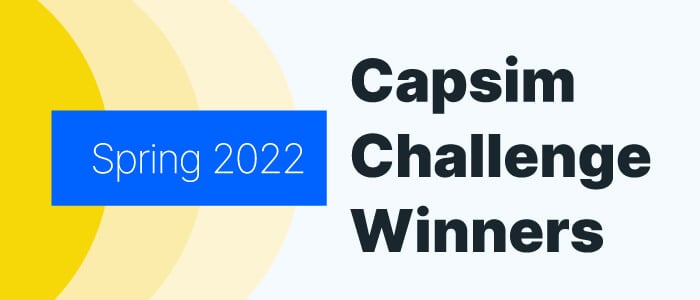 The Class of 2022 confronts a business environment of escalating complexity, and the winners of the Spring 2022 Capsim Challenge have evidence they can offer their employers skills that meet the management problems of an unpredictable world.
Capsim dialed up the difficulty of its biannual international competition for business students this Spring, changing parameters and including a double recession in the Capstone scenario.
Both Hunter Rogers of Brigham Young University, Idaho, and Eric Freedman, from California State University, were equal to the task. Rogers, a student of Derick Rhoton and Jonothan Baker, won the Foundation 2022 Fall Challenge, and Freedman, a student of Alex Makarevich, won the Capstone 2022 Fall Challenge.
The twelve competition finalists – six in each simulation – prevailed over more than a thousand students from 15 countries, all trying to create market-leading virtual companies through superior strategy and tactics.
Professors see positive rewards from Capsim Challenge
Professor Rafidah Othman, from the Azman Hashim International Business School in Kuala Lumpur, saw a team from his Strategic Financial Management course reach the finals in the Foundation Challenge.
"The Capsim business simulation provides a risk-free trial-and-error platform to understand a real business setting for industry-ready graduates," Professor Othman said.
Professor Ruben Ceballos, whose student, James Calvert, was runner-up in the Capstone Challenge, said simulation-based learning produced practical results.
"There are so many ways students can use their simulation experience to highlight their skills," he said. "For example, in teamwork/collaboration, leadership, detail orientation, business intelligence, forecasting, financial management, and more."
Winners enjoy the benefits of experience
Winner of the Capstone Challenge, Eric Freedman, competed in the finals alone, but credited the teamwork he enjoyed in his classroom simulation with stimulating his creativity.
"I learned a lot from designing a workflow and communication system that allowed our group to work together asynchronously," he said. He also learned to balance, "time invested in data crunching," with the demands of fast turnaround decision making.
Winner of the Foundation Challenge, Hunter Rogers, said he'd been looking forward to the Spring Challenge ever since he completed Foundation in class, six months before.
"I am an aspiring data scientist and want to use my data skills, combined with business knowledge, to become a mutual fund manager and investor. This challenge has given me a better understanding of how important good management is in running a business.
"I have come to appreciate the way different departments work together to make a symphony that is a successful business. I would also say that I have learned that businesses cannot be studied in a vacuum but rather should be seen together. New products and ideas from one company will impact the sales of another. Decisions can't be made effectively in a vacuum either, because you need the whole picture in order to know what is going on."
About the Capsim Challenge
The bi-annual Capsim Challenge is open to all students who have completed a Capsim Simulation in their course in the last 12 months. The Spring 2022 Challenge attracted students from universities in Australia, Canada, China, England, India, Indonesia, Israel, Malaysia, Mexico, South Korea, Thailand, Turkey and the United States.
All past winners are listed in the Capsim Hall of Fame at http://www.capsim.com/events/challenge/#/hof
Final results for Capsim's Spring 2022 Foundation® Challenge: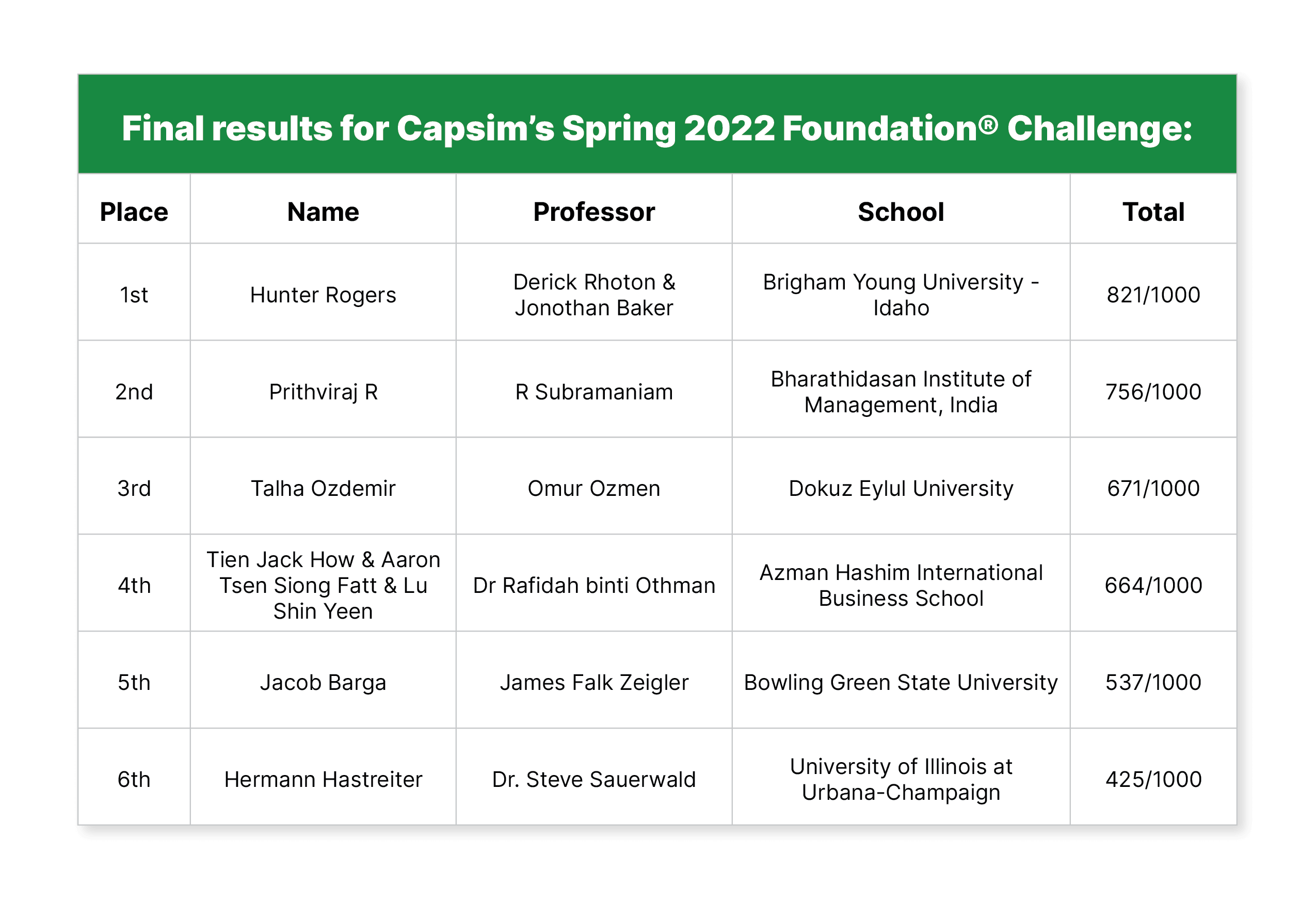 Final results for Capsim's Spring 2022 Capstone® Challenge: