4 Criteria Soft Skill Training Courses Must Meet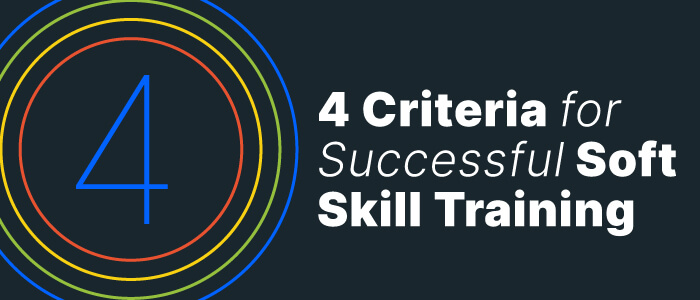 Soft skills aren't teachable.
At least, that's a misconception we've heard in the past that we're happy to dispel.
Effective soft skill training requires an interactive experience where participants can learn through decision-making and real-world application. Without real-world application, only 19% of knowledge gained can actually be applied.
Let's explore the essential criteria your soft skill training courses must meet and the type of training that's the most impactful on your employees' progress. In this article, we will also review how to bring your training to the next level with customized training techniques.
Your Soft Skill Training Should Check these 4 Boxes
In the past, improving your employees' soft skills meant more on-the-job training and real-world experiences. On-the-job training can be somewhat effective because employees get real-world application of the information they learned during classroom training.
However, on-the-job training is a resource-intensive and costly way to train employees, especially for soft skills. There is no guarantee that in-person soft skills training will be effective because of the lack of a proven structure, progress measurements, and knowledge application. On-the-job training ends up costing you more in the long run in training costs and potentially poor outcomes.
What if we told you there is a more efficient and effective way to deliver even better training?
At Capsim, we pride ourselves on providing the best soft skills training for your employees. We use an immersive online simulation platform, CapsimInbox, that offers an interactive day-in-the-life experience, so your employees learn crucial skills - without pricey virtual reality tech. All your employees need is a computer and internet connection, and they're on their way to learning essential skills that will help improve and grow your company.
Your soft skill training courses should also allow you to customize the modules to each role and learner. This enables you to add themes, topics, and objectives that will impact your company the most and help you develop your team effectively.
1. Includes Learning via Knowledge Application
Traditionally, soft skill training has been out of touch with the realities of the workplace. Utilizing outdated training programs that aren't applicable in the real world leaves employees unprepared for real work situations.
Fortunately, there are a few tell-tale signs that you're training isn't working and may be in need of knowledge application:
Low completion rates suggest your training isn't engaging enough.
Lack of interest in development opportunities suggests your training isn't relevant or engaging.
Low employee retention suggests your training isn't ingraining knowledge or relevant.
Poor feedback on learning & development initiatives, suggesting your training isn't doing enough to engage, develop, and build up your employees.
True learning is a combination of knowing concepts, knowing how to apply those concepts, and then actually applying them. Knowledge application through real-world scenarios offers your employees experience to draw upon in their work.
2. Engages Your Employees
Compared to traditional soft skill training, immersive soft skill training courses help engage your employees more. If your soft skill training is applicable to your employees' real-life situations and helps them perform better in those situations, they are more likely to stay engaged and engrain what they learn.

For example, which of these sounds more captivating and something you'd want to experience?

A 2-hour lecture in a classroom with a Powerpoint and some worksheet handouts
A 15-minute simulation where you play a character in your job role, interact with other characters, and have to make decisions based on the information you're given?
The second choice. It's not even a competition. Why? Because it engages you with story-like elements, makes you think, and isn't two hours long. Engaging your learners helps make your training more effective.
After their soft skill training courses, your employees can confidently say, "I've done this before--I know how to handle this," when they encounter a situation similar to what they saw in their simulations.
3. Helps Develop Self-Awareness
Have you ever been so close to a situation that you needed an outside perspective? Sometimes all it takes is a step back to get an objective opinion.
In soft skills training courses, this is done by pairing self-assessments with an objective, skill-based assessment.
After years of being in your industry, it's possible that your employees unconsciously continue habits rather than using the most efficient way to get something done. This is a common occurrence illustrated by studies analyzing the correlation between self-evaluations and actual performance. With 1.0 being total accuracy, studies have shown that the correlation of self-evaluation scores and objective assessments is 0.29 on average.
Furthermore, a recent Harvard Business Review study found that teams with low self-awareness had worse decision-making skills, team coordination, and effective conflict management than more self-aware teams.
Self-awareness is crucial to high-functioning, productive teams. Soft skill training courses delivered through simulations like CapsimInbox are a great way to start measuring and developing self-awareness of employee skill gaps.
4. Includes Channels for Direct Feedback
Any soft skill training courses you're considering should also include a plan for delivering actionable feedback to your employees.
The actual training courses are half the battle. Your employees' future progress depends on the feedback they receive and if they can immediately address weaknesses and build on strengths. Soft skill training courses delivered through simulations provide direct and actionable feedback to help you and your team see progress and plan for growth.
Simulations Check the Boxes for Soft Skill Training Courses
Soft skill training courses have needed an upgrade for a long time now. Seeing how many companies struggle with soft skill development and progress measurement inspired us to create a solution.
At Capsim, we sought to create immersive and relevant real-world training so your employees can excel in their roles without additional in-person training. Soft skill training courses like simulations engage your employees and deliver the best training content customized to propel your company forward.
Take a free test drive of CapsimInbox and see what it would look like for your company.