What is Soft Skills Training? A Cheat Sheet for New L&D Professionals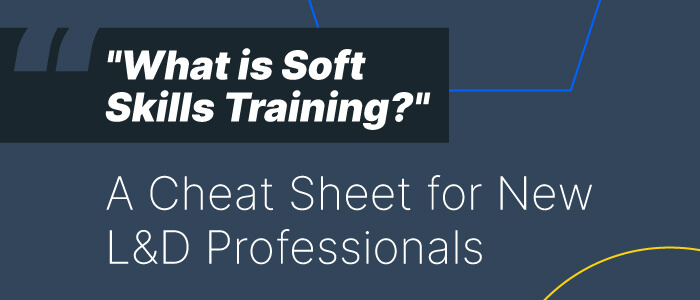 Overlooking and underestimating soft skills is a detrimental mistake.
Soft skills are incredibly valuable and have a high impact on your work in L&D. These skills impact hiring decisions and continued employee development. According to recent studies, 93% of employers consider soft skills to be significantly important and impactful. Despite the high impact of soft skills, many L&D programs lack soft skills training which hurts your team members' development and company overall.
This cheat sheet can serve as a reference or a refresher for new or non-L&D professionals. We'll answer the question "What is soft skills training?" and much more, including potential benefits, delivery methods, and training topics to be covered.
What is Soft Skills Training?
Soft skills affect your personal and professional life. These non-technical skills often reflect your interpersonal skills and your ability to make strategic decisions quickly.
Soft skill training is often offered as a part of a company's L&D program and centers on improving specific soft skills that apply to an employee's role, their ability to perform in their role, and their interactions with others within and outside your organization.
Examples of soft skill training areas include:
Written and verbal communication with team members and clients
Active listening in internal and client meetings
Decision-making when conflicts arise
Problem-solving and critical thinking analyses
Adaptability when assignments and situations change
Time, task, and project management
And much more
Ideally, your soft skills training program should include real-world scenarios that reflect situations your employees will inevitably face. Accomplishing this requires an instructional platform that includes avenues for knowledge application in real-world situations, such as online simulations.
Let's review the basics of soft skills training and the practical and enjoyable ways to deliver this training to your employees.

What are the Benefits of Soft Skill Training?
As remote work and automation become commonplace, the need for soft skills rises in demand. Although 97% of employers report that soft skills are crucial to their company, 63% of those employers don't have entry-level employees with the necessary skills. The skill gap impacts your organization as a whole. Instead of sticking with hiring and training practices that are not soft skill-based, it's crucial to include soft skillet training in your L&D program.
Increased ROI
According to a recent MIT Sloan study, companies have shown a 250% increase in return on investment (ROI) after applying soft skill training.
Job Success and Continuity
After 18 months from the start of employment, over 1,000 professionals were surveyed as a part of Talent Conference research. Just under 50% of those surveyed ended up failing in the job they had started 18 months ago. Out of those who failed, a whopping majority, 89%, reported that they failed because of their lack of soft skills. If the companies these employees worked for invested in soft skill training, their retention and job satisfaction problems would be solved.
Effective Hiring
According to a recent LinkedIn study, 92% of hiring managers surveyed reported technical skills as less valuable than soft skills. In addition, 89% of those same hiring managers said that bad hires often don't have the soft skills they need to succeed in that role.
These trends in talent reflect a bigger problem: the overall deficiency in relevant soft skills on the job market. Soft skills are an important factor to focus on during the hiring process so your team hires the right person for the role, but soft skills also benefit your current employees. By investing in soft skills training for your entire company, you're investing in the skills that make a significant difference.
Increased Productivity
In a recent Google study, Google analyzed what makes their most productive and innovative teams successful. While the average person would guess that Google's "A-teams" full of top scientific minds would come up with the most innovative ideas, Google disproved that myth.
Google found the most innovative ideas and highest performers came from their "B-teams" made up of interdisciplinary employees. The most impactful predictors of success at Google were soft skills including communication, insightfulness, and empathetic behaviors.
How Should You Deliver Soft Skills Training?
What's an L&D professional's worst nightmare when it comes to soft skills training? Delivering inadequate training that's unengaging and not well-received by employees.
The most efficient and effective ways to deliver your soft skills training is through:
Real-life scenarios in an engaging format

Self-assessments

followed by practical skill assessments
Easily accessible training platforms
Instant, actionable feedback
The alternative is dealing with outdated training methods like PowerPoint-driven lectures, quizzes, and employee training manuals. While these methods offer the benefit of knowledge acquisition, relying on them alone leaves out crucial components like knowledge application, improved self-awareness driven by self-assessments, and actionable feedback.
Your teams may also end up taking a risk on dynamic and innovative tools like e-learning platforms or virtual reality. Again, these platforms aren't without their benefits. But they have downsides as well.
E-learning platforms offer a more engaging style of learning but still rely on knowledge acquisition and retention without any way to apply that knowledge.

Virtual reality is engaging and immersive, but at a high dollar cost and possible cost to employee health from documented side effects.
Using online simulations such as CapsimInbox enables your employees to work through real-world scenarios in a safe learning environment where mistakes are a part of the learning process.
Online simulations also are time and cost-effective because building these simulations doesn't require much time at all. Instead of wasting several months and a huge portion of your L&D budget for one VR simulation, your team is able to get microsimulations live quickly.
Soft Skill Training Platform Cheat Sheet
Soft skills training has to be engaging, effective, and accessible. Let's review each of these three main topics to cover and what you need for each.
Engaging
Your soft skill training program should be:
Immersive, including job role preview and day-in-the-life simulations.
Relevant, including real-life scenarios.
Familiar, including real-world context for application.
Interactive, choose-your-own-adventure-style learning.
Effective
To be effective, your soft skill development program should use tools and methods that are:
Evidence-based, to draw from the best current research and accurately predict future job success.
Assessment-based, which allows you to measure essential skills objectively.
Developmental, providing avenues for knowledge application followed by immediate and actionable feedback.
Accessible
Making your soft skill training accessible means your program should include:
Bite-sized or

mini-learning sessions

to be completed in one sitting.
Remote, virtual learning that can be accessed online from anywhere.
Self-directed learning paths and material, so no instructor is required.
In addition to those three areas of focus, your soft skills training program should also be affordable, customizable, and applicable to your employee's daily lives.
The Future of Soft Skills Training
Since the 2020 pandemic, business operations and employee training have changed drastically. Going online with your soft skills training is a necessary adjustment to make.
So where do you go from here? Our free CapsimInbox demo and pilot account is the perfect next step.
Explore and play around in a real inbox simulation. This way, you can see how online simulations will improve your employees' soft skills development experience and outcomes (no equipment or costly coding time required.)