Three Women. Three Time Zones. One Winning Inbox Simulation.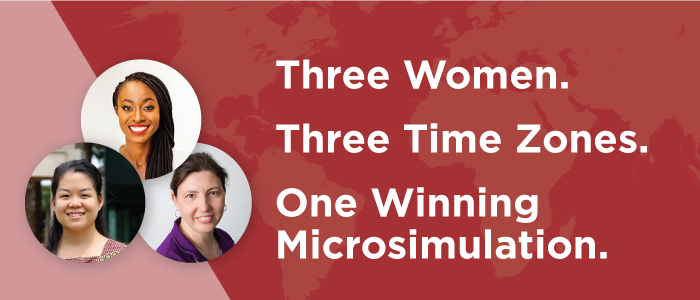 What's better than sustaining relevant education in underdeveloped regions and the chance to win $5,000?
When Capsim partnered with GBSN Beyond to create a competition, we knew it would be a race to the finish from the start. We didn't know how exciting it would be to judge six total inbox simulations created in just one month.
We had a tough time choosing the winners.
Three Incredible Women Struck Gold in Building an International Mining Version
This year, a group of inspiring women won Capsim's GBSN Beyond Microsimulation competition. The dream team was comprised of Dr. Takako Mino, Lecturer of Humanities and Social Sciences Department at Ashesi University; Jennifer Seely, Fulbright Scholar and Associate Professor of Politics at Earlham College; and Jewel Thompson, Assistant Lecturer of Business Administration at Ashesi University.
Together, the team created an entirely new gem: an Ethics in International Mining inbox simulation. In it, participants take on a day-in-the-life of a new project manager for a mining company, Sika Mining Ltd.—one of the largest and most reputable firms in Ghana.
The idea originated from the challenges in Africa's mining space.
It was important for the team to capture Ashesi University's core mission: to educate a new generation of ethical, entrepreneurial leaders in Africa; to cultivate within its students the critical thinking skills, the concern for others, and the courage it will take to transform a continent.
"We wanted to ensure whatever we designed was led by the Ashesi spirit and what we're trying to instill in our students," Jewel said.
Mining is an immense industry in Ghana, accounting for more than half of all foreign direct investment, generating more than one-third of all export revenues, and the largest tax-paying sector making significant contributions to GDP and employment.
And because of the industry's prevalent presence in the local economy, it has also become associated with negative connotations when it comes to a concept called galamsey, a Ghanian term for "to gather and sell,"—illegal small-scale gold mining in Ghana.
Unethical behavior creates challenges in the industry—people are underpaid, and there's a level of damage harming the ecosystem.
"But because it's such a profitable system, you find people cutting corners all the time," Jewel said.
The international mining team brought in their diverse backgrounds in business, leadership, and communications at Ashesi to create a dynamic learning experience. The simulation helps students and educating professionals to navigate the ethical considerations involved in the mining industry.
The Chief and Elders are Influential in the Community
Unlike most Western perspectives, many of the decisions in the mining situation came down to communal responses.
"In Ghana, traditional leaders are very influential and play a big role in how land is used, solving community disputes, and promoting the community's development," Takako said.
That means, whenever an individual or group wants to embark on a project or purchase land, they must first approach the Chief and other elders.
And that reality is reflected in the simulation.
"The Chief directly reaches out to the project manager and expresses the community's complaint," Takako said. And it's up to the participant to determine the best way to navigate the dispute.
In Ghanian culture, "Any time you want to make an individual decision, the entire village is involved," Takako said with a laugh. Individual decisions don't exist—you need everyone's input. And even if you don't go with it, you need to convey your dissent.
Another aspect that stood out as someone tuning in from Chicago's bustle and bluntness was the frequency of emails and sentences beginning with please.
"It's a sign of respect and politeness—both crucial parts of the culture," Takako said.
So what does it take to build an inbox simulation with three teammates in three different time zones?
Jennifer is a visiting professor at Ashesi University this semester. She was supposed to contribute as a Fulbright scholar until the program's suspension once the pandemic struck. While she wasn't physically in Ghana, she still brought her passion and focus on instructional simulations to her teammates.
Conversations circulated around the challenges the team wanted their Ashesi students to face, reflective of the real world.
"It was easy to decide what we thought a great simulation would be," Jennifer said.
Then, it came down to investigating the CapsimInbox platform itself and the opportunities it had to offer. The adventure started in a Google Doc, where the team framed the experience and started layering it—making connections between what-if scenarios, a logic model of sorts. Characters came next, then crafting unique voices for each of them, and finally delegating roles and writing emails to create an enriching simulation.
This semester's online transition served as an additional hurdle to overcome for the group. Having another project to work on amid crazy schedules was a challenge.
Spotty wifi connectivity on Takako's side in Uganda meant the group members couldn't always hear each other. She adapted and responded in the Zoom chat box during group calls instead. Jennifer joined the Zoom calls from Indiana and Jewel connected from Ghana.
Every week, they met at a consistent time (8 PM Ugandan time) to collaborate and finish tasks, relay style. The team organized itself and communicated well to take turns, go inside the authoring platform, and complete individual tasks before passing it onto the next person—a virtual relay race.
"It was a true, developing-world experience," Takako said with a laugh.
And despite all the challenges, the team still emerged victorious.
Their initial reactions?

"Ahhh!" Takako reenacted over Zoom from Uganda. "What just happened?" Jewel Thompson added. The team was texting each other on WhatsApp in elation.
Sure, they had discussed winning. But it was a daunting task. And yet, in just one month, the team leveraged its expertise and built an entire inbox simulation from the ground up.
As for the next steps? They're looking to further develop the simulation and flesh out previous thoughts cut short by the time clock. And from there, make it available to other professionals and Ashesi.
"How do we integrate this into business and communications courses and the community at large?" Jewel asked. That's the exciting challenge ahead.
Want to experience the inbox simulation yourself? You can try Ashesi University's version, along with the other five submissions, for free. Experience what it's like to be a project manager at a mining company in Ghana; the Head of Sustainability and Responsible Sourcing at a commodity trading company in the Democratic Republic of the Congo; or the Product Manager of a garment plant in India, among other roles.
Try the GBSN member-created inbox simulations for free here.
Do you have what it takes to build a winning CapsimInbox simulation?
Now, you have the tools at your fingertips to start creating. Get started in our free building platform by visiting the CapsimInbox Authoring platform.