4 Ways to Create an In-Depth Soft Skill Assessment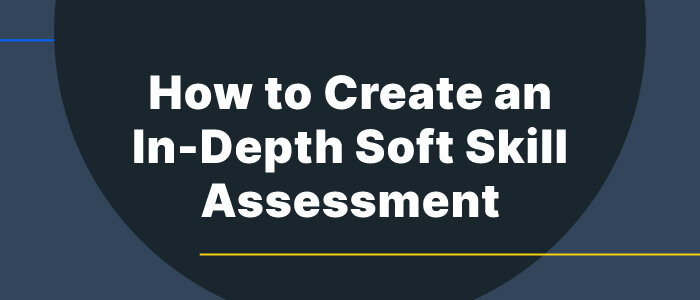 How do you know which job candidates are worth the interview?
Soft skill assessments are the ultimate way to weed out candidates who won't be a good cultural fit in your company. They are also key in delivering a high-quality customer experience and positive interactions with people outside your company. But there is much more to soft skill assessments than asking the right questions.
Not taking the many factors that affect your soft skill assessments into account may result in inaccurate or ineffective results. The last thing we want is for you to miss out on a potential candidate that would have excelled in a role.
This article will review the key factors required for creating a comprehensive, in-depth soft skill assessment. We'll also review innovative ways that you can improve your participants' experience and overall assessment process.
How to Create a Successful Soft Skill Assessment
Soft skill assessments have traditionally fallen flat, but it's not for the companies' lack of having the right intentions. Most leaders and hiring managers want to see an accurate representation of a potential candidate's skills, and they're looking for an efficient and cost-effective way to do it.
Your company deserves accurate assessment results that truly measure what impacts your company the most: soft skills. Studies have measured the impact and value of soft skills, finding that 93% of employers value soft skills as essential to their hiring decisions. Although a potential hire may have the hard skills you're looking for, if they don't have the soft skills you need, they may not be a good fit for your company.
The goal of effective soft skill assessment is to ensure that you're hiring the right people with valuable and impactful skills. Our solution to the common problems with soft skill assessments is CapsimInbox, an inbox-based simulation that creates an immersive and engaging learning experience.
By providing real-world experiences for your assessment participants, you're able to see how they respond in realistic scenarios. There's no more wondering how they're going to do on the job. You've seen their performance in the assessments and are confident they can handle and adapt to new situations.
With that in mind, let's take a look at four practical ways to create an in-depth soft skill assessment.
1. Choose an Effective Delivery Platform
The first step to creating a comprehensive soft skill assessment is to choose the right platform. When looking for a platform, it's crucial to consider the standard features and possible customizations available.
An effective soft skill assessment must include standard features such as:
An interactive and immersive assessment format
Multiple-choice answers with instant feedback
Open-ended response questions for critical thinking and reasoning skill analysis
Your delivery platform should also include an automatic assessment system, progress reports, and a dashboard for your employees'' assessments and training.
2. Key Areas of Assessment Focus
Developing your in-depth soft skill assessment also requires a process for effective soft skill measurement. If your assessment isn't measuring the right soft skills, your assessment will be ineffective. We don't want you to miss out on a potentially perfect job match because of common soft skill assessment problems.
CapsimInbox objectively measures the soft skills your company defines as essential for specific teams and roles.
In general, the five most essential skills that matter to organizations include:
Organizing
Leading
Problem Solving
Communicating
Initiating
However, CapsimInbox can be used to assess nearly any skill. While our pre-built simulations do cover the soft skills mentioned above, they also cover other common soft skill needs.
That's also the purpose behind the level of customization available within the CapsimInbox Authoring Platform. It's up to you to determine the skills gaps and learning objectives, and then develop a solution that targets them.
Assessing these soft skills helps you understand if a potential hire matches your organization's needs and culture. By giving your potential hires real-world context, you can deliver an authentic assessment and make more informed hiring decisions.
3. Accurate Assessment Outcomes
Creating your in-depth soft skill assessment is just half the battle. Receiving valuable and accurate assessment scores is a significant factor in the assessment process.
When searching for a soft skill assessment provider or platform, it's crucial to consider the validity of their results. For example, CapsimInbox has a tool that predicts job performance. Measured by criterion-related validity, CapsimInbox has supportive evidence that the assessments can accurately predict job performance effectiveness. The only process more effective than our CapsimInbox methods is analyzing actual work samples.
Choosing a soft skill assessment tool that gives you accurate and detailed assessment outcomes is crucial to your organization. Here is a snapshot of what a detailed report should look like: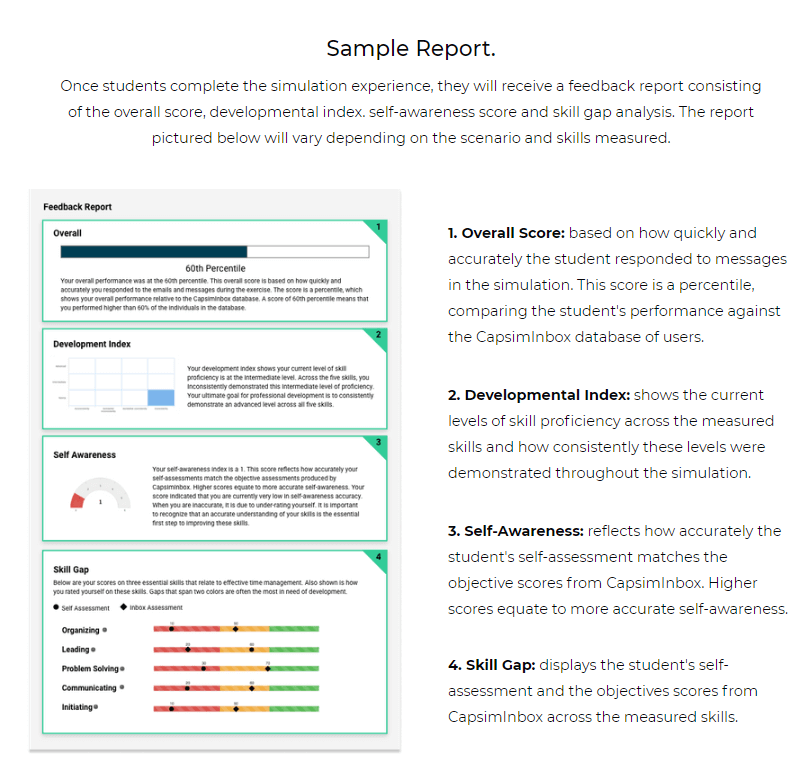 RELATED READING: CapsimInbox Technical Synopsis
4. Create an Individual Development Plan
Soft skill assessments aren't the end-all-be-all when it comes to hiring decisions. You may find yourself with a candidate who is very close to meeting your criteria, and you decide to hire them for their potential.
That's where individual development plans come in. Individual development plans (IDPs) guide your assessment participants through creating development goals for themselves using the S.M.A.R.T. criterion (Specific, Measurable, Achievable, Realistic, and Timely.)
IDPs provide a tailored development path for each of your employees. It helps keep them engaged in their work, pursue growth in their skills, and look for new opportunities to implement training in real-life situations.
Your Soft Skill Assessment Solution
Soft skill assessments are crucial to finding the right person for your open positions. These assessments can also be used with current employees to identify skill gaps.
Want to see first-hand how CapsimInbox works? We want to offer you a free test drive so you can see how easy it is to build simulations yourself. To see if CapsimInbox is the solution you've been searching for, check out our self-guided inbox simulation demo.