Which Training Simulations are the Best for Corporate L&D Programs?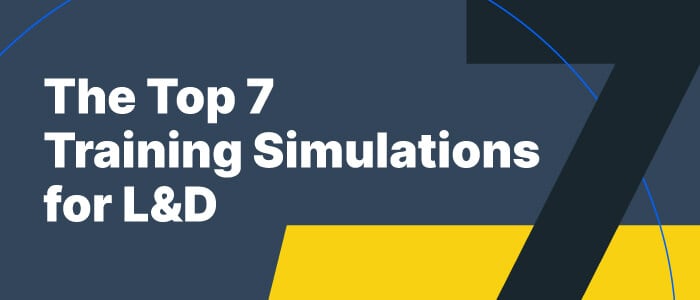 As a learning and development professional, you know the challenges that come with the territory.
Chief among those are:
Creating development opportunities that engage employees
Creating programs that help employees improve
Demonstrating ROI for the time and money invested in L&D programs.
For this reason, many L&D professionals are looking to training simulations to help them conquer these challenges, and for good reason. The benefits of simulations have been detailed in numerous studies. For example, in one study, simulations were found to:
Increase self-efficacy by 20%
Increase knowledge application by 14%
Increase knowledge acquisition by 11%
Increase knowledge retention by 9%
In another study, training simulations led to a 53% increase in learning outcomes.
Training simulations are effective. But what simulation platform is best for your company? That's the question we'll address in this article.
7 Training Simulation Platforms to Consider for Your L&D Program
We want to give you all the information you need to invest in the right training simulation platform for your L&D program.
Would we love to have you as part of Team Capsim? Of course. But we also want to ensure you find the right fit. We know there's nothing worse than buyer's remorse, particularly when it's a platform your entire company could end up using.
We will look at the seven best training simulations and provide an honest and straightforward look at what they offer. From key features and benefits to particular use cases, we're going to give you the information you need to make the right decision.
With that in mind, let's look at the best training simulations available to L&D departments right now.
Source: ETU.com
ETU, short for EmpowerTheUser, produces simulations based on behavioral science. They offer an enterprise-grade behavioral assessment and learning platform built on a measure-learn-perform methodology.
Key features & benefits
Numerous simulation themes are available, such as leadership, risk & compliance, sales, and diversity & inclusion.
Multiple simulation formats, including video-actor, image-audio, and virtual reality.
AI-assisted collaborative building environments help subject matter experts, instructional designers, and L&D team members reduce simulation build times.
Integration into our LMS or talent management platform.
ETU's simulations have been scientifically validated.
Scalable infrastructure and single sign-on help you get new users up and running quickly.
Testimonial from their website
"Two challenges that ETU have really helped us with. One is the effective instruction...and the second thing is the measurement…we get data all the way from learning to application." -Brenda Sugrue, Global CLO, EY.
Source: Talespin.com
Talespin specializes in virtual reality-based simulations that are delivered via desktop screen or through head-mounted displays. The Talespin Platform consists of two different technologies focused on developing soft skills and job aides, as well as collaborative processes and objective-based learning.
Key features & benefits
The Runway platform helps deliver immersive VR simulations at scale, and assists L&D leaders in measuring progress and performance in the field.
CoPilot is an engaging, life-like environment leadership, communication, and interpersonal skills (i.e., soft skills).
CoPilot Design offers a no-code solution for building VR training simulations focused on developing soft skills.
The Propel platform within Talespin allows learners to simulate complex tasks that are normally hard to train, like insurance claims investigations and construction fundamentals.
Talespin's VR modules and platform were validated as an effective training and development tool in a

VR soft skills training study

conducted by PwC.
Source: Forio.com
Founded in 2001, Forio offers several simulation-based products focused on higher education, corporate training, public policy, forecasting applications, and data visualizations. In addition to custom simulations, Forio offers:
Epicenter, a platform for making your own web-based simulations and applications.
Performer, online role-based soft skills platform.
Ready-to-Run Simulations, off-the-shelf simulations created by faculty at Harvard, MIT, Wharton, and more.
Should your specific need call for custom training simulations, Forio's modeling and data science team and developers can help you get exactly what you need.
Key features & benefits
The custom development process starts with the simulation objectives, ensuring the learner's needs are the focus throughout the build process.
Performer includes three learning modes:

Observe & Rate, in which learners gain understanding by watching interactions and rating them against key performance measures.
Single Player, for solo skills practice that starts with an assessment.
Pair Play, which is similar to Single Player but includes real-time audio and video interaction with colleagues.
Simulation Studios has been elevating the corporate learning environment through tech-based solutions since 2003. The company's overall focus for training simulations is on leadership development and strategic-change initiatives.
They offer turnkey business simulations, "tailored" simulations, and 100 percent custom simulations built from the ground up.
Key benefits & features
Their ready-to-go simulations help managers and employees "live a day as your CEO" by covering topics like leadership development, business acumen, strategic thinking, business analytics, and decision-making.
Tailored Business Simulations allow for the flexibility to include your company's unique leadership model, HR tools/methods, metrics, and inputs to suit your industry, products, and services.
Simulation Studios' custom-built training simulations are ideal for large, complex company initiatives, and are made to mimic the behavior required for your ideal business outcome.
Source: Game-learn.com
Gamelearn is a game-based learning platform for corporate training. Using interactive videos, Gamelearn uses a specific game-based learning formula with 1) applicable content, 2) gamification and storytelling, and 3) real-life cases, simulations, and individualized feedback.
From LMS integrations through their Campus tool to transforming Powerpoints and PDFs into games using Gamelearn Editor, Gamelearn offers a unique, engaging way for HR and L&D teams to develop their employees.
Key features & benefits
The Gamelearn Academy is a community focused on helping users learn how to use and make the most of the Gamelearn Editor.
Content can be consumed from anywhere on any device (desktop, tablet, mobile) making it incredibly scalable and accessible for remote teams.
Gamelearn's catalog training simulations can be integrated into the LMS you're already using, keeping all your L&D tools centralized.
The Admin toolset helps you track and measure employee progress and performance with dashboards, surveys, and usage statistics.
Testimonial from their website
"I think what Gamelearn offers is a platform that's suitable for everybody, even if you've never experienced any kind of e-learning or gamification before. It's so easy to access." -James Emanuel, Global Learning and Development Lead Manager, JTI.
Source: Advantexe.com
Advantexe provides live and virtual training simulations geared toward developing business acumen, leadership, and strategic business selling. They have designed and implemented business simulations for over 200 organizations worldwide, incorporating their proven algorithms and machine learning technology.
Advantexe offers several different types of training simulations, including:
Business acumen simulations
Best practices simulations (sales prospecting, leading strategic execution, etc.)
AI-based simulation bots
Industry-specific business simulations
A pharmaceutical business simulations suite
Assessment simulations
Virtual role-play simulations
Custom simulations
Key features & benefits
Their focus on business acumen, leadership, and selling has resulted in a high level of expertise for companies looking to upskill their employees in these areas.
Their 3-Stepped Simulation process (Planning, Execution, and Events) cover all types of decision-making scenarios, forcing learners to think through priorities and short- and long-term consequences.
Their expertise in learning design ensures all aspects of the simulation — storytelling, metrics, outcomes, analytics, and decision-tree branching — are all aligned to deliver a relevant and engaging experience.
Testimonial from their website
"The simulation was engaging and hands-on. Great exercise to really make you think about your business and the impact you make when making strategic decisions." - CLO at a Global Technology Company.
CapsimInbox from Capsim is a simulation platform that delivers learning modules through a familiar email inbox and instant messaging-style interface. CapsimInbox offers L&D teams the option to implement off-the-shelf simulations or build their own no-code training simulations within the CapsimInbox Authoring Platform.
The ability to customize simulations makes CapsimInbox an ideal tool for a seemingly-endless number of use cases:
Assessing and developing "hard-to-teach" soft skills.
Teaching the basics of finance and investing.
Building simulations tailored to job openings and using them as an assessment tool for job candidates.
Identifying skills gaps across certain teams or your entire company.
Supplementing other training activities as a pre/post-assessment tool or for knowledge checks.
Key features & benefits
CapsimInbox is a microsimulation delivering a full day's worth of role-based situations and decisions in 30 minutes or less.
The self-assessment tool allows learners to rate their perceived skill levels before going through simulations.
The skill gap analysis shows their performance vs. the self-assessment, fostering self-awareness of strengths and weaknesses.
The combination of characters, backstories, and real-world situations creates an immersive and engaging learning experience.
Proven, off-the-shelf training simulation topics include everything from People Management, Managerial Accounting, and Ethical Decision-Making to Strategic Marketing, Crisis Management, and Cultural Awareness.
Testimonial from their website
"CapsimInbox allows us to quickly create a tailored training solution that address participants' immediate training needs in a context that is both relevant and meaningful to their working environment and to their culture." -David Knock, CEO & Director, EdCentral.
Your Next Steps for Evaluating Training Simulation Platforms
We've given you seven training simulation tools to look at and evaluate. But what's the best way to evaluate them? And what questions should you ask?
We can help with that, too. Our free ebook, 7 Questions to Ask Before Investing in Simulations, walks you through the most important questions and considerations to help you choose the best-fit training simulation platform.
Want to evaluate CapsimInbox and see all it has to offer? Check out our self-guided demo to run through the exact inbox simulation experience your employees will go through.