This is What a Successful Business Simulation Training Program Looks Like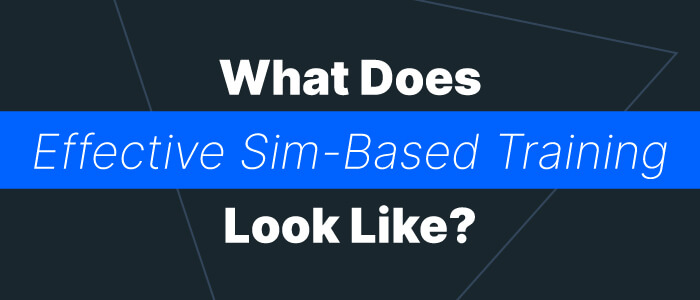 Honesty time: How many times have you said, "We have to increase employee engagement in our L&D program" in the past three years? Too many to count? If so, you're not alone.
According to a 2020 Statista survey, 36 percent of L&D professionals worldwide are aiming to increase employee engagement in their learning programs. Engagement in corporate L&D programs has long been a problem because of a heavy reliance on traditional, unengaging instructional methods: lectures, PowerPoints, workbooks, and video libraries.
That's what makes business simulation training an appealing addition to your L&D toolbox. The real-world, game-like experience makes development relevant and fun. But like any tool, maximizing the benefits and effectiveness comes down to how you implement it.
In this article, we're going to talk through all the benefits of business simulation training, and then walk through how we'd build out an effective business simulation training program from the ground up.
4 Benefits of Using Business Simulation Training in Your L&D Program
In case you're wondering why we believe simulations should have a place in your L&D program, here are four primary benefits to consider:
Simulations provide "reps and sets" for real-life situations and scenarios tailored to specific roles. Your employees get a safe, risk-free practice environment to develop skills relating directly to their job.

Simulations combine game elements like characters and storylines with job relevance to engage learners. Plus, they allow your employees to go through a day's worth of scenarios and decisions in 30 minutes or less (instead of hour-long presentations).

Simulations that include learner self-assessments help identify skills gaps, particularly for

soft skills.

Simulations provide an avenue for knowledge application to ingrain skills and develop critical thinking and problem-solving.
So now that we have the "why," let's dig into the "how" of creating a business simulation training program in your company.
How We Would Structure a Business Simulation Training Program
We're going to approach this exercise as if we were starting from scratch with adding simulations to your L&D training mix. We'll discuss the steps we would take in the exact order we would implement them to give you a step-by-step guide to doing the same in your L&D program.
First, Get a Baseline and Identify Skill Gaps
If you're going to improve, you have to measure a starting point or baseline. This has three benefits:
It allows you to measure and illustrate progress with your employees.

Baselining helps you identify crucial skill gaps and generate ideas for development initiatives.

Your baseline and subsequent progress measurements can prove the effectiveness of your program and demonstrate a return on investment to company executives.
We'd start baselining by department or even specific roles to gather scores. Self-assessments, in which employees rate their perceived level of aptitude, will become incredibly valuable as employees begin going through business simulation training modules. We'll be able to compare their perceived scores versus actual scores and generate self-awareness on their part of shortcomings that need to be addressed.
Next, We'd Build Assessment Simulations for Job Openings
In step one, we assessed all current employees. In step two, we will help out HR (and ourselves) by using our business simulations as an assessment tool for job candidates.
It helps HR vet candidates more thoroughly, particularly for soft skills that are hard to judge from resumes and interviews alone. Using business simulations as part of the hiring process helps speed up the process. HR can weed out bad-fit candidates, interview fewer people, and spend less time trying to hire the right people.
And when job candidates get hired, we already have their baseline done and can jump right into creating individualized plans for them. It's a win-win for L&D and HR!
Create Ongoing Development Plans Customized to Roles & Employees
So, we have everyone's baselines from the self-assessments and initial simulations. Now we can start creating ongoing development plans to address employee skill gaps using a mix of business simulation training and other instructional methods.
The biggest advantage simulations give us is customization. One-size-fits-all training is a recipe for low engagement.
To maximize engagement and effectiveness, we need to implement customized learning experiences based on baseline measurements and skill gaps we identified. Business simulation training can be tailored to the needs of departments, roles, and individual employees.
Share Progress and Set Up a Process for Demonstrating Growth
Business simulations provide another key advantage over other instructional methods: progress measurement. Tracking employee progress toward goals helps keep them motivated and hungry to close skill gaps and feel in control of their development.
But it also gives you the proof you need to demonstrate the value of your business simulation training. You can show executives the actual progress of learners via dashboards and reporting.
So, Which Business Simulation Training Should You Choose?
There are a lot of good options out there, so how do you make the right decision? We can help there, too.
Our ebook, 7 Questions to Ask Before Investing In Simulations, offers a lot of considerations and things to look for in business simulation training platforms. It's a great resource to help you take your next step toward implementing business simulation training in your L&D program.
You can also take our inbox simulations for a test drive in our self-guided demo.