Is Simulation-Based Learning Effective for Business L&D Programs?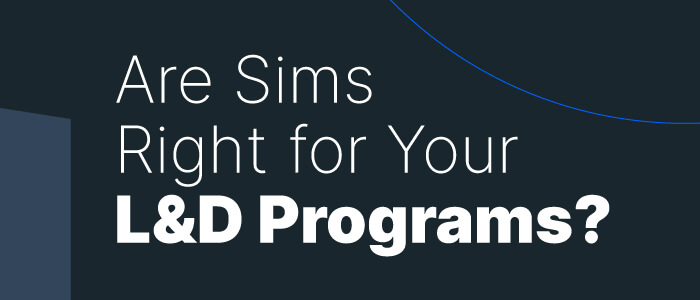 If you're considering simulation-based learning for your business, you know that these types of programs deliver significant value to your business, employees, and in turn, your customers.
In fact, businesses just like yours rely on simulation-based learning programs to increase knowledge acquisition, boost skill proficiency, and more.
For example, S&P Global Market Intelligence uses a simulation-based learning platform to prepare its financial analysts with the skills and resources needed to master financial intelligence.
When it comes to the future of your own business, our powerful simulation-based learning software comes with all the features and capabilities to develop learners into A+ players and future leaders in your company.
Keep reading to learn more about the bottom-line boosting benefits of simulation-based learning as it relates to business learning and development (L&D).
What is Simulation-Based Learning?
An advanced simulation-based learning program offers a real-life learning experience for end-users. By providing valuable context through hands-on learning, learners can immerse themselves inside real situations and access the critical information needed to level-up both technical and soft skills. There are many training simulation platforms purpose-built to help your workforce maximize its potential.
CapsimInbox is a simulation platform equipped with powerful learning modules distributed via a familiar, easy-to-use email inbox interface. Our tool grants system administrators the ability to create custom, no-code training simulations. Additionally, administrators can choose from powerful, off-the-shelf simulations.
Can Simulation-Based Learning Improve Business L&D Programs?
What's at stake if you don't invest in simulation-based learning?
Today, the way we teach and train employees is fractured. Unfortunately, legacy tools and resources, including lectures, textbooks, and slideshows lack the insight to drive rapid and sustained learning. In fact, recent data suggests that only 37 percent of corporations are happy with current training programs.
If you want to prepare your learners to meet (and exceed) expectations set within today's business environment, you must invest in customized, practical, and relevant training that provides opportunities for deep learning and enrichment. A simulation-based learning program is one of the simplest and most effective ways to enhance the operational performance of your company and employees.
RELATED READING: 7 Reasons to Make Simulation Training a Part of Your L&D Program
Benefits of Simulation-Based Learning
The benefits for simulation-based learning are virtually boundless. An advanced simulation-based learning environment offers the following:
Experience real-life work situations to acquire real-world context
Assess and develop critical technical and soft skills
Provide immediate feedback through in-depth reporting
Administer a variety of learning initiatives, including skill gap analysis, certification courses, interactive case studies, and more!
RELATED READING: 4 Innovative Ways Companies are Using Soft Skill Training for Employees
Simulation-Based Learning Use Cases
"Financial literacy and inclusion is everybody's problem," said Myles Gage, Chief Marketing Officer at Rapunzl. "Early exposure to finance and investing presented me with an incredible array of opportunities which ultimately changed my life."
Rapunzl's free investment competitions provide learners with the opportunity to discover powerful investment strategies designed to promote financial success. Rapunzl leverages CapsimInbox to produce scenario-based investment experiences.
"The CapsimInbox piece became relevant in terms of how we are going to teach students soft skills and applied learning," said Brian Curcio, Rapunzl CEO & Co-Founder.
CamsimInbox's immersive simulation-based learning programs have financiers prepare students for the professions they can expect to pursue after graduation. Students encounter unique and specific scenarios to challenge their learning and drive financial literacy.
Certification training is another brilliant use case for simulation-based learning. S&P Global Market Intelligence utilizes CapsimInbox as a delivery vehicle to prepare learners for careers as financial analysts. These day-in-the-life simulations help learners understand the typical tasks and responsibilities of a financial analyst and build the skills necessary for success in that role.
Simulations can also be used as a front-end assessment tool in the hiring process. Reach HR helps cut their clients' interview processes in half by creating simulations to measure the required soft skills for specific job openings. They use the results of the simulation-based assessments to determine which candidates get interviews.
RELATED READING: Rapunzl Investments & Capsim Team Up to Open Doors to the World of Finance for Students Who Didn't Know the World Existed
Getting Started With Simulation-Based Learning
It's never been easier to get started with simulation-based learning to improve business learning and development programs. Capsim offers powerful and results-driven solutions to maximize the effectiveness and aptitude of end-users.
Why is Capsim qualified to support you as a simulation learning partner?
We've worked with a variety of industry-leading businesses across a multitude of industries. We understand that every business and use case is different and have focused our efforts on building a fully customizable solution to meet the exact needs of your business, administrators, and students.
So what's next for your business?
We recommend downloading our free guide: 7 Questions to Ask Before Investing in Simulations. Use this in-depth guide to evaluate the effectiveness of prospective simulation-based learning programs.