Debriefing in Simulation-Based Learning is Critical. Here's Why.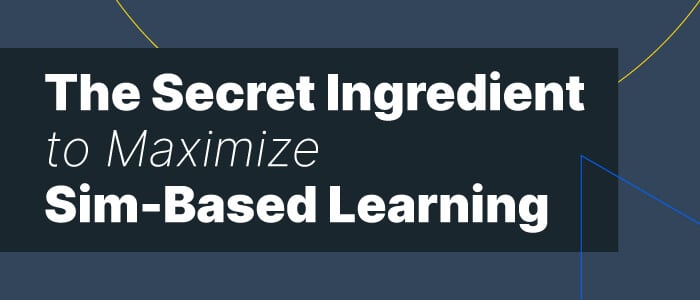 So you've invested in a simulation-based learning program for your business. Now what? To maximize your chances of rapid adoption and success, you need to know how to orchestrate an effective learning plan. The ramifications of an unorganized learning program are serious. You could end up wasting valuable time, energy, and capital.
Debriefing is a crucial step in cementing trained skills into the real world. Research shows teams that conduct debriefs outperform those who don't by an average of 20 percent or more. It goes without saying that debriefing is a significant and value-driven component of any effective simulation-based learning program, yet many companies continue to waste their resources and fail to see the gains they wish for simply from skipping out on debriefing.
So what's the solution? We've seen first-hand how debriefing accelerates the learning process for end-users. In this article, we'll discuss how debriefing in simulation-based learning can improve your business' learning and development programs.
Debriefing in Simulation-Based Learning: Overview
Before we begin, you're probably wondering: what is simulation-based learning and how does it apply to my unique business? Allow us to explain.
A simulation-based learning program incorporates interactive modules. These modules put employees in the position of assuming a fictional character in a role similar to theirs. They must navigate various scenarios and make critical decisions that influence the reaction of the other characters (their coworkers) and measure the skills the simulation is designed for.
CapsimInbox provides employees with the ability to finetune both technical and soft skills at their own pace. Developing both technical and soft skills creates more well-rounded employees and helps them excel at both the subject matter of their roles and working well with their coworkers, managers, and customers.
The use cases for CapsimInbox are virtually limitless. Business learning and development administrators utilize CapsimInbox to activate the following:
Skills Gap Analysis
Certification Courses
Pre/Post Assessment
Interactive Case Studies
Hiring & Selection
Knowledge Checks
Debriefing in any simulation-based learning program is absolutely essential to help ingrain learning and develop positive behavioral changes.
What is Debriefing?
According to Palaganas JC, Fey M, and Simon R. in Structured Debriefing in Simulation-Based Education, debriefing following a simulation-based learning program is a "conversational period for reflection and feedback aimed at sustaining or improving future performance." Many L&D professionals view debriefing as one of the most important elements of interactive learning.
Employees rely on debriefing to better understand course material and how it might apply to real-world situations. It helps employees facilitate recall, clarifies the most important learning points, builds confidence in their skills, and promotes lasting behavioral changes that show up in real-world work situations.
For example, let's say a particular employee struggles with time management. Simulation-based learning can reinforce techniques they learned in other instruction, then put them in the position to apply it in a simulation that requires them to prioritize their day and their tasks.
The key messages are reinforced in the debrief, and action steps are created for them to implement in their real-world work. This is how the gap between simulation and real-life is bridged, and how simulations and debriefing work together to create behavioral change that lasts.
RELATED READING: Which Training Simulations are the Best for Corporate L&D Programs?
How to Facilitate a High-Value Debriefing Environment
So what's the best way to facilitate and promote effective debriefing? A simulation platform should come with the resources and tools to activate immediate and personalized feedback to close both technical and personal skill gaps.
CapsimInbox provides instant feedback once an employee completes a simulation to show the results of the decisions they made. This helps to "close the loop" opened during the simulation, helping the employee understand the "why" behind right and wrong answers.
There are a number of best practices when it comes to conducting a high-value debriefing session and providing effective developmental feedback:
Keep it focused on the big picture.
Align your feedback to your organization's values.
It should be as specific as possible.
Stick to the facts, don't interpret.
Include both positive and negative feedback.
Look for patterns that tell a more truthful picture.
Link feedback to their impact on coworkers and the organization.
Prioritize your points to avoid overloading your employees.
The major advantage of simulations is that you have actual performance, analytics, and concrete metrics to pull into the conversation. You can't debrief a video experience. CapsimInbox helps you leverage objective data when discussing strengths and weaknesses. Simulations make the learning more concrete and give the facilitator or trainer more metrics for a valuable debrief.
RELATED READING: 7 Reasons to Make Simulation Training a Part of Your L&D Program
Maximize the Effectiveness of Debriefing Sessions With CapsimInbox
There are many types of training programs on the market today. However, traditional training – lectures, videos, in-person assessments – lack the features and components needed to drive effective and sustained learning. In fact, recent data indicates that only 37 percent of businesses are satisfied with current business learning/development programs.
CapsimInbox comes with powerful pre-built simulations purpose-built to help corporate leaders maximize the potential of their workforce. Use our platform to administer real-world learning to engage team members and employees.
Many industry-leading businesses have already made the switch to simulation-based learning. Failing to make the transition for your own business means that you're one step behind. Moreover, you will continue to waste time, energy, and capital on ineffective training and outdated personal development programs.
There's a better way.
"The CapsimInbox piece became relevant in terms of how we are going to teach students more of the soft skills and applied learning," said Brian Curcio, Rapunzl CEO & Co-Founder.
You can see our inbox simulation in action in our self-guided demo. Jump in, go through the simulation, and see what your employees will see.