4 Steps to Create a Skills Gap Analysis Using Simulations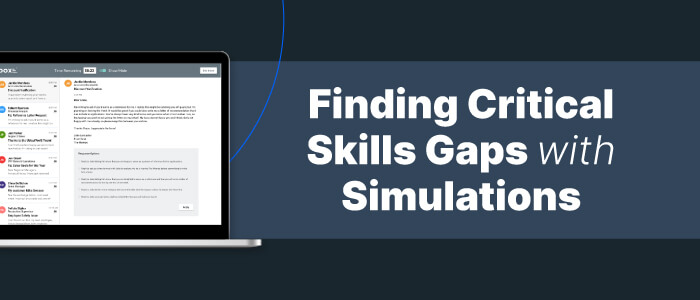 What do the computer, the internet, and COVID-19 have in common? They all caused major shifts in the workplace, resulting in massive process changes and technological advancements in the business world.
It's not just major inventions or events that cause these shifts. The work environment is always changing. Recent advancements in technology and changes in professional culture mean that employees are doing more unfamiliar work than ever before. This means that identifying skills gaps is critical.
Eighty-seven percent of surveyed professionals reported that they believed there were existing skill gaps in their workplace or expected skill gaps to appear within the next five years. If you want to achieve or retain a competitive advantage with your workforce, you need to take steps now to identify skills gaps and help your employees close gaps and achieve their full potential.
How do you identify skills gaps that could potentially rob your organization of efficiency, productivity, and progress? This post will outline the four steps to creating a foolproof skills gap analysis using simulations.
4 Steps for Using Simulations as a Skills Gap Analysis Tool
Before we dive into the steps to create a skills gap analysis using simulations, let's take a closer look at what a skills gap is. A skills gap occurs when your employees' skills or skill competencies do not align with the skills and level of proficiency required for success in their position. These skills can be technical skills or soft skills like critical thinking, problem-solving, or time management.
Of course, the ultimate goal will be to close the skills gaps in your organization, but before you can take that step, you will first need to identify where the gaps are in your workers' skill sets. This is where a skills gap analysis comes into play.
At the most basic level, a skills gap analysis looks at three things:
The technical and soft skills needed for a specific role
An employee's lack of said skills and/or proficiency in said skills
The best way to bridge the gap to skill acquisition or achieving proficiency
Our 35+ years of experience have shown us that simulations are useful in identifying skills gaps and making a game plan to address them. Let's examine the steps to creating a simulation-driven skills gap analysis.
1. Define Organizational Goals: Current & Future
Imagine you're on a road trip and the passenger asks whether or not you're running late. To answer that question, you'll need to know two things: where you're going and when you need to arrive.
You'll need these same pieces of information to determine whether or not your organization is at risk of struggling with skill gaps. Before you can analyze if your workforce has the necessary skills for your business to succeed, you'll need to have a clear picture of the things your organization hopes to accomplish now and in the future. Ask yourself these questions:
What major projects are on the horizon?
Do you have any upgrades coming down the pipeline?
Are any of your technological solutions sunsetting in the near future?
Once you've taken stock of your organization's goals, take steps to determine how the different facets of your workforce will help achieve those goals. Which team will be implementing your new tech solution? Who's taking point on the major projects? This information is essential in setting the foundation for your skills gap analysis.
2. Determine Key Skills Needed
Once your company's roadmap is laid out before you, you can take the next step in preparing for your skills gap analysis. You've determined your organization's goals and the team members responsible for achieving those goals. Next, you'll need to determine what skills will be needed for your business to succeed in those endeavors.
What is the learning curve on the new user interface if you're implementing a new tech solution? Maybe you're starting a new initiative to be more data-driven in your decision-making processes. What sorts of data analysis skills will your teams need to succeed in that initiative?
One pitfall you need to avoid is only examining the technical skills your organization will need to succeed. In any project or initiative, success depends heavily on your workforce's hard and soft skills. A demanding project may require responsible staff to have a high level of attention to detail. A tech upgrade will involve troubleshooting, which means your staff will need critical thinking and problem-solving skills to succeed. Ensure your list of necessary skills includes these if applicable.
RELATED READING: 4 Ways to Create an In-Depth Soft Skill Assessment
3. Select the Right Simulation
Armed with a list of all the skills you need to test, the next step is to select the right simulation for your analysis. Your first question here may be, "Why analyze skills gaps using simulations?"
There are other methods by which you can measure your organization's skills gaps, assessments being one of the most popular. However, simulations offer advantages that other methods of analysis don't.
Simulations give your workforce real-world context. In an assessment, an employee may be able to guess the answer that will make them appear more favorable to their superiors, which could skew results. In a simulation, however, the employee will engage with a real-world situation in a controlled, measurable environment, producing far more accurate results.
The step of selecting and conducting your analysis via simulation may be a lengthy one, as custom-built simulations can take time to set up and produce.
CapsimInbox offers off-the-shelf simulations for everything from people management and human resources to business analytics and ethical decision-making. If off-the-shelf simulations are a good fit for the key skills you need to analyze, you can speed up this process by using those pre-built solutions.
Custom-built simulations are also available through CapsimInbox. With this option, you can build a simulation for any role or skill set you need to analyze. For example, one of our clients built a custom simulation to address challenges in their hiring and interview process, and to use in onboarding new employees.
All of CapsimInbox's simulations provide immediate feedback and in-depth reporting abilities, so whether you go with off-the-shelf or custom solutions, you'll have the data you need at your fingertips.
4. Examine the Results & Make a Plan
With the results of your simulations in hand, you can begin the evaluation stage of your skills gap analysis. When using simulations for your skills gap analysis, the feedback is immediate. You'll have access to reportable data for each employee as soon as their simulation is complete and aggregate data for all workers in your simulation. This data will allow you to locate the gaps in your workers' skill sets reliably.
Composite team results will be valuable for indicating to leadership where the team is lacking. This data will give your learning and development team a roadmap for creating both team development plans for technical and soft skills discovered in your skills gap analysis.
Individual results are also helpful. This data should be provided directly to each team member to help them gain self-awareness regarding their skill gaps and motivate them to improve those skills.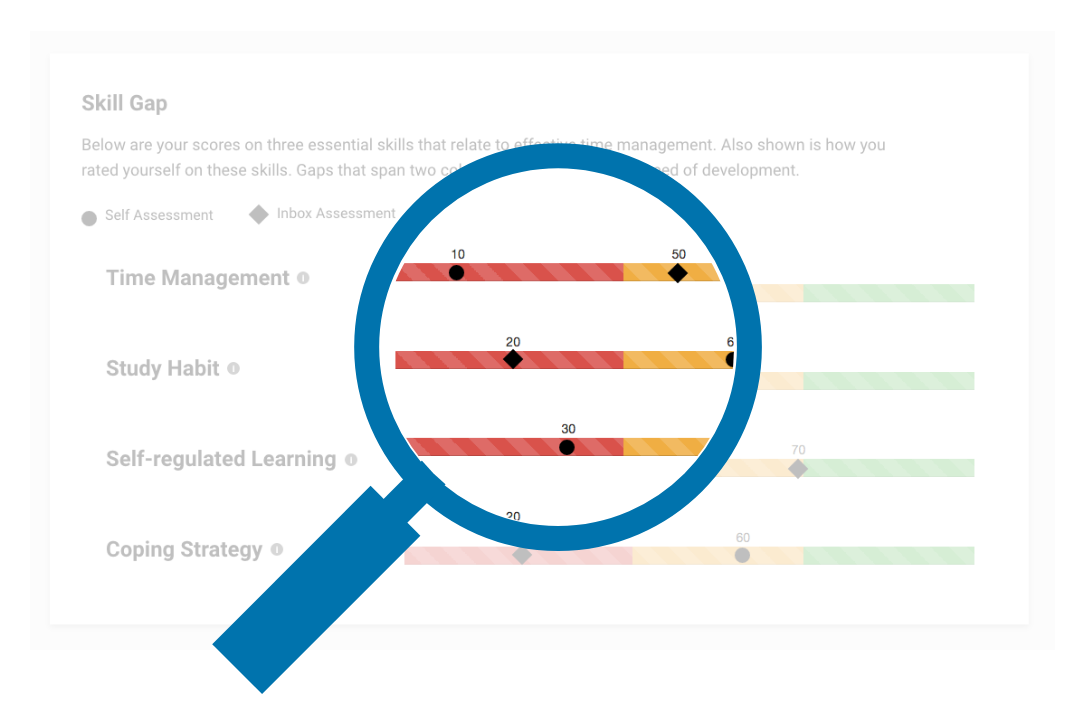 4. Repeat
This step is perhaps the most important and often overlooked in any skills gap analysis. As we discussed earlier in this post, your organization never stops growing. Your customers' needs, industry, and technology are always changing. As a result, your team will always need to be looking inward to ensure they have the necessary skills to keep up with these changes.
In short, skills gap analyses are not a one-and-done event.
Some tips for how to maintain a culture of constant improvement in your workplace include:
Change the way you hire

: Conduct simulations during the hiring and onboarding processes to get baseline skill information for all incoming employees.
Monitor progress over time: What gaps did you identify in your initial analysis? Keep an eye on those skills. Conduct a fresh analysis after training has been completed. How much did those skills improve? What additional training is needed?
Set up a regular process: Measure your employees for skill gaps regularly. The skills required for key tasks should be measured on a regular basis. You should also re-test for skills gaps any time a target is missed.
Taking these steps will ensure that your skills gap analysis continues to benefit your organization beyond a single quarter or period.
Using CapsimInbox to Create a Skills Gap Analysis
Following the four steps outlined above will allow you to identify any skill gaps in your organization before they have the chance to cause trouble for your team. Though there are many methods of exploration you could use to test your employees' skill sets, simulations are incredibly effective.
The authentic nature of simulations gives a better feel for how your employees react in a real-world setting. The data and analytics tools give more reliable results than simple observation.
Our custom-built solutions offer you the chance to tailor your simulations to the specific skills and roles you're looking to analyze, and our in-depth reporting will help ensure that none of the gaps in your organization will escape your notice.