The Complete Guide to Business Simulation Software: [Definition, Features, Vendors, Pricing]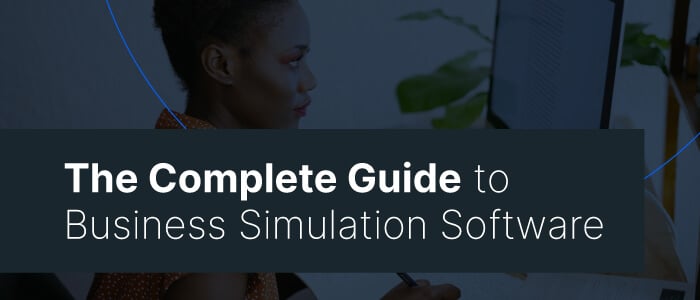 Is your team nodding off during mandated professional development sessions? Perhaps the training seems to go fine, but in the days or weeks following, you notice it doesn't seem like any of the learning stuck. You want an engaging business training experience that encourages retention. Enter: Business simulation software.
You need a training solution to help you with everything from onboarding to upskilling, and you're wondering if business simulation software could be your silver-bullet solution. How can you determine if this solution is the right fit for you?
Let's take an in-depth look into business simulation training software. We'll discuss the essential features, top vendors, general pricing, and more.
What is Business Simulation Software?
Experiential learning is vital to the success of any training program. Through experiential learning, trainees can engage in tasks and practice skills they'll need to complete their daily job duties. Additionally, trainers can observe their learners' behavior in a real-world environment, allowing them to provide real-time feedback.
The advantage of business simulation software is that it enables employees to engage in experiential learning without the risk of real-world consequences they may face while learning on the job.
So, what is a business simulation? Any experiential learning practice in the workplace can be considered a business simulation. Simulations allow learners to put theory into practice in a safe, controlled environment.
Simulation-based training provides you and your learners with multiple benefits. In addition to removing risk from the training environment, a few of the top benefits of utilizing business simulation training software include:
Context through application:
Allowing learners to apply their knowledge through interactive training lets them practice acting out specific situations. This additional context and practice give learners the tools they need to hit the ground running with their new knowledge.
Real-time feedback: Feedback is most effective when received in the moment. Immediate feedback can help employees correct mistakes immediately and encourages positive behavior changes. Simulation training allows trainers to provide immediate feedback, guiding the trainee's learning experience.
Customizable and flexible: Simulation-based learning programs can be tailored to specific roles or situations. By engaging learners in highly relevant training, you can give your employees the specific information they need to succeed.
Strengthens soft skills: Employees can work on major soft skills like problem-solving, critical thinking, and communication while engaging with interactive training.
Essential Features of Business Simulation Software
If you're implementing business simulation software for your training efforts, you need to ensure your program includes several essential features. These features are realism, feedback, reporting, and personalization. Let's look at each of these in a bit more detail.
Realism: This feature is vital to your business simulations because they are meant to be just that—simulations. If your simulations do not accurately reflect the external environment, they won't be effective learning opportunities for your trainees. Additionally, conducting business simulations in the workplace allows learners to engage with real coworkers and managers in practice to problem-solve real-world challenges.
Feedback: Your simulation software needs to aid you in offering real-time feedback to your trainees. Without real-time feedback, simulation training can reinforce bad habits. When you're able to offer feedback in real-time, you can stop those bad habits in their tracks and correct trainee behavior to reinforce best practices.
Reporting: Without proper data collection and reporting, it will be challenging for you and your team to determine the success of your training efforts. Additionally, robust reporting will allow your organization to identify skills gaps.
Personalized: If you want your business simulation training to be effective, you need to be able to customize your training sessions and activities to fit specific roles and duties.
How Much Does Business Simulation Software Cost?
You may be interested in implementing business simulation software, but before you can make that decision for your business, you need to know how much this type of software costs. The overall answer here is: It depends.
Let's look at some factors that can influence the cost of business simulation software. The first influential factor is your level of customization. A highly customized solution will be more expensive than an out-of-the-box simulation.
The second factor influencing price is the level of customer support you expect from your software provider. Finding inexpensive business simulation software is possible, but the cheapest solution will not always be the best. It may be worth it to spend a bit more upfront to receive quality customer support and utilize software that is easy to implement and simple to use.
Variety will also influence the price of your software solution. A solution with a wide variety of simulations will be more expensive than software that provides a few basic, broad-level simulations and limited alternative resources.
Additionally, business simulation software can save you money. Implementing this type of solution can save your organization cash in the following ways:
Improved Training Effectiveness: Experiential learning allows learners to apply their learned skills, which helps them retain knowledge better and gives them practical experience.
Reduced Turnover: Offering employees consistent career development and enrichment opportunities increases motivation and reduces turnover. Investing more resources in business simulation software may mean you need to invest fewer resources in hiring and recruiting.
Upskilling and Reskilling

Opportunities: With business simulations, you can easily train your current talent base to take on new challenges and roles, reskilling star employees into new roles or upskilling them to take on additional responsibilities in their current roles.
Improved Soft Skills Training: Soft skills are notoriously difficult to train. The instantaneous feedback and real-world setting of simulation training help your employees learn and hone soft skills in a safe environment.
4 Top Simulation Software Vendors
Armed with an understanding of the factors that influence simulation software pricing, let's look at a few of the top vendors in the industry. For each, we'll look at the strengths and weaknesses, giving you the information you need to choose the best vendor for your organization.
Selecting the Best Business Simulation Software For Your Business
Simulation training has been an effective tool for providing workers with the skills and knowledge they need to do their jobs effectively for decades. Business simulation software makes it simpler to scale and measure the results of these types of training efforts.
However, not all business simulation software solutions are created equal. You will need to choose the right software for your business to get the best results out of your simulation training efforts.
CapsimInbox offers a wide range of simulation training options, including custom-built simulations, out-of-the-box solutions, and even microlearning simulations that allow learners to make a full day's worth of decisions in thirty minutes or less.
To see how CapsimInbox can help your business, take a free, self-guided demo today!