What is Simulation Training in HRM?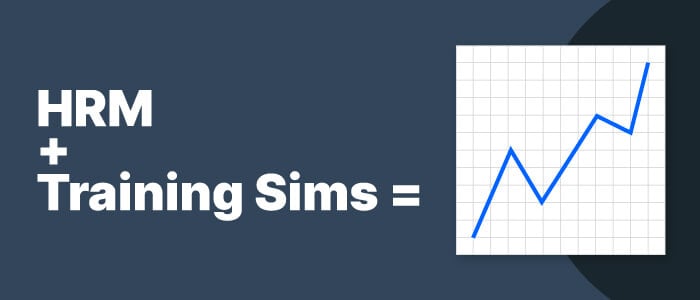 The world's most successful corporate teams invest in business simulation training.
To date, simulation-based training has quickly become one of the most widely adopted training programs by industry-leading businesses worldwide. Moreover, a simulation training environment is a component of an effective human resources department.
Why?
An interactive training scenario grants employees the opportunity to access valuable, hands-on learning in a controlled environment. This training gives employees the flexibility to make mistakes–and learn from them.
When you remove risk from the situation, employees are more likely to retain knowledge and/or skills acquired. And when it comes time to perform, experiential learning gives employees all the resources and know-how they need to take the task head-on.
All of this is valuable in human resource management (HRM). From hiring and performance management to training and employee engagement, HR leaders can benefit greatly from a flexible tool like simulations. Read on to learn how.
Simulation Training in HRM Overview
Before we dig into simulation training, let's look at the role and goals of human resources within a typical organization through the lens of a character we'll call HR Heather.
HR Heather is the head of HR at her company, and she's not super thrilled about the state of her talent acquisition. Too many hires end up being poor culture fits and aren't as skilled as they say (particularly with soft skills). This leads to higher turnover, unhappy managers, and long periods of time to fill job openings.
HR Heather wants to create a better hiring process that:
Correctly assesses skills
Quickly weeds out bad fits
Motivates new hires
Cultivates a better work culture
Ultimately, she wants to hire people that drive her company forward. Fortunately for Heather, simulations like CapsimInbox can help her attain her desired goal.
When you consider the total breadth of training options available, finding the right teaching tool for your workforce can feel like a significant undertaking. Unfortunately, traditional training – lectures, textbooks, webinars – lack the context today's new generation of employees need to drive growth.
CapsimInbox is an industry-leading simulation-based training platform. Choose from one of our pre-built training programs or build your own customized training solution. CapsimInbox offers the familiarity and ease of use of a standard email inbox. Learners can quickly access vital coursework through a simple but powerful user interface.
Keep reading to learn more about the benefits of simulation training in HRM.
self
Benefits of Simulation Training Benefits
So what does simulation training get "right" compared to other forms of training on the market today? Consider the following:
Simulation training provides context through hands-on application
Administrators can review and provide real-time feedback
Employees can access customized training based on their unique role
Employees can refine both technical and soft skills
Simulation training allows employees to make mistakes
A real-life example of simulation training in HRM is Reach HR. They are an outsourced HR partner that performs numerous human resource management functions for their partners. One of these functions is the interview and hiring process.
Reach HR found that many of their clients were spending too much of their valuable time interviewing unqualified or poor fit candidates. So they turned to CapsimInbox as their solution.
First, Reach HR looked at the skills required for specific job roles. Next, they built out custom CapsimInbox simulations to assess the identified skills in candidates. After the candidates completed the simulations, they used the data generated to help their clients understand which candidates were potential poor fits.
The result? They've helped clients cut down interview and hiring process time by half.
How to Get Started With Simulation Training
Getting started with simulation training is as easy as 1-2-3!
From skill gap analysis to interactive case studies, the use cases for CapsimInbox are virtually limitless. Whether you're creating a custom simulation or launching one of our standard, pre-built solutions, CapsimInbox gives administrators the exact tool needed to shape their workforces' technical and soft skills.
To get started, we recommend scheduling a short demo.
Partner With Capsim to Launch a Successful Simulation Training Program
There's a lot that Capsim gets right when it comes to simulation training.
Capsim is the paradigm shift, enabling companies to maximize their workforce's effectiveness, efficiency, and output – it's that easy. Here's how CapsimInbox helps:
Helps employees identify skill gaps
Turns insights into action, allowing employees to refine and improve major areas of weakness
Gives employees a roadmap toward rapid and sustained growth
While we're confident in CapsimInbox, we don't want you to rush into a decision. We want to make sure you choose the simulation platform that's right for your specific needs. Our free guide, 7 Questions to Ask Before Investing in Simulations, gives you the ins and outs of evaluating simulation training platforms.
You can also experience an inbox simulation firsthand with our self-guided demo.